Wooden Hand Plane
One of the used tools for woodworkers is a hand plane. Being a hand tool, it uses muscle power to shape wood forcing its cutting blade pushing and running over a surface, typically wood. Professionals use these planers to shape, finish and flatten surfaces or boards imparting a smooth surface to a rough timber or a piece of lumber.
Who needs these?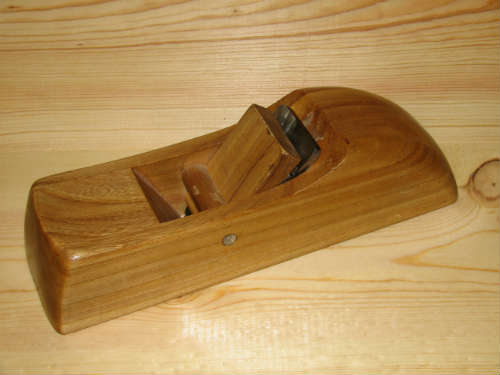 Using these planes, woodworkers produce vertical, horizontal or even inclined flat surfaces on work. This is usually done when the wooden surface is too large to shape particularly when the goal is to develop the same smooth surface. Wooden hand planes are the arrangement of a cutting edge (a metal plate with a sharp edge) which is attached firmly to a wooden body. When the plane is moved or pushed over a wooden surface, takes up almost uniform shavings leaving the surface smooth.
The blade or cutting edge rides on the 'high spots' present in wooden surface providing a constant angle to its cutting edge rendering the planed flat surface. When we see 'bottom' of the wooden plane, we cannot ignore its cutter extending below the lower part of the surface, or sole. This blade slices off wooden shavings while the great and flat sole of the plane keeps guiding the cutter for removing only the highest bumps or parts of some imperfect surface. After several passes over the surface, the surface turns smooth and flat. When used for flattening, professionals prefer bench planes with longer soles for boards that are longer in longitudinal dimensions. This way a longer sole can register against a greater part of the board's face or its edge surface leading to a better consistently flat surface and a straighter edge. Conversely, if a small plane is used, it would allow for more high spots to remain. In general, these planes are usually pushed for smoothening the surface, but few Japanese manufacturers have come up with planes that are pulled (not pushed away).
Let's Make a Wooden Hand Plane
On the face of it, wooden planes look simple, but there is a lot of learning while building one. This way planes are amazingly refined, while detail during its building adds to its performance as well as comfort in use. You will not make a good plane unless you consider it real fun.
Be sure that there is quite a little room for error while building a plane. This is because there is nowhere for hiding, no way for patching veneer and no room for filling in with putty or glue or even shellac. Tricks and shortcuts do not work here so doing it right the first time is a good approach. A plane that is badly built while things go wrong, the plane would be finicky to adjust, and it might bring out large shavings.
You need to select right kind of wood for its construction, preferably a hardwood. It should be reasonably heavy as well as stable. A plane is a tool so it should be worth using while you use it to make goods for others. In this case, out of free domestic wood, oak and maple would work great. The wood should not be from the extra-oily varieties.
Keep the body of the plane milled according to blade width. The body should be 1/16 inch bigger than the size of the blade. If you make the body larger than 1/16 inch wider, the plane blade is likely to rattle around while working. Conversely, it will invite trouble while adjusting the blade for accounting for a grind that falls out-of-square.
You should apply extreme care when milling or while re-milling the parts of the plane. If you are not precise, you will spend a lot of time and effort in putting together the parts and having the plane finally checked for use.
The bed of the plane has to be dead perfect. Time-consuming part will be flattening, but it happens to be most critical too.